Hey Daytrippers! Long time no talk. I've been running from White Walkers, but while up north I figured I'd hit up some ice bars, which seem to be everywhere this time of year. There's about a dozen or so in the greater Saratoga and Lake George areas, and with January's frigid weather it's hard to tell if they hired ice carvers this year or just let Mother Nature do her thing.
I went the last weekend of January with some of my family to the Glacier Ice Bar & Lounge at The Sagamore in Bolton Landing, NY, followed by the Funky Ice Fest at the Adirondack Pub & Brewery in Lake George. Both were a jolly good time, despite the wind and frigid temperatures. When we went last year to The Sagamore's ice bar, the weather was much warmer (probably a balmy 40ish), with only remnants of snow on the ground, so we spent some time wandering around the lakeside of the resort, taking in the gorgeous views from the balcony above the main porches on the back side of the resort, and taking lots of pics on the doc right on Lake George itself. We did have a wonderful time this year too, sipping on winter themed cocktails like my Jack Frost Cocktail made of Tito's Handmade Vodka, Blue Curaçao, pineapple juice, and coconut purée, and my brother Dan's Nor'easter which featured bourbon, sparkling apple cider, and maple syrup. If that doesn't say New York in winter, I don't know what does. We mostly hung out on the various porches and patios, trying to stay warm while still in view of the frozen lake.
We started off the afternoon by heading straight for the patio with the actual ice bar and various sculptures all carved out of ice. This year's theme was dogs, as Tito's Handmade Vodka is the event's main sponsor and 'Vodka for Dog People' is their slogan. The ice bar itself was carved like a fire truck, and to the right of the bar was a group of show dogs. The details of all of the dogs are incredible, from their style of fur to their individual rolls, plus the variety of dog breeds showcased. There were several other sculpted ice dogs set up on the wraparound porches, where they had small bars set up (not made of ice though), along with high top tables to stand around, cushioned and Adirondack chairs, and outdoor heaters set up all throughout their various porches and patios facing the lake. There were a few other ice sculptures around the main patio w/ the ice bar, including a full size throne you could sit on and a huge Dog Pound wall which had open windows and doors for guests to peek through for a great photo op, which we absolutely took advantage of.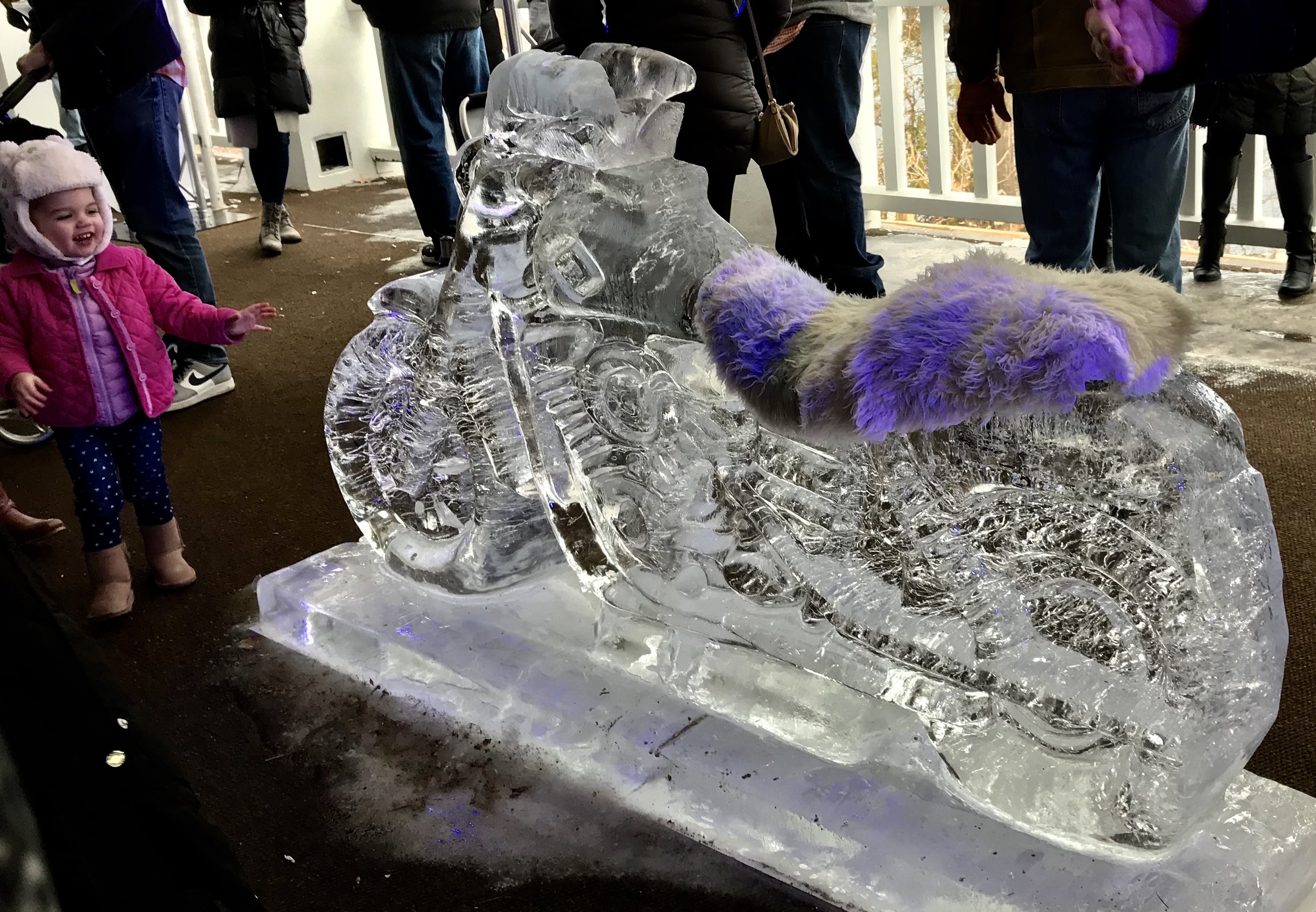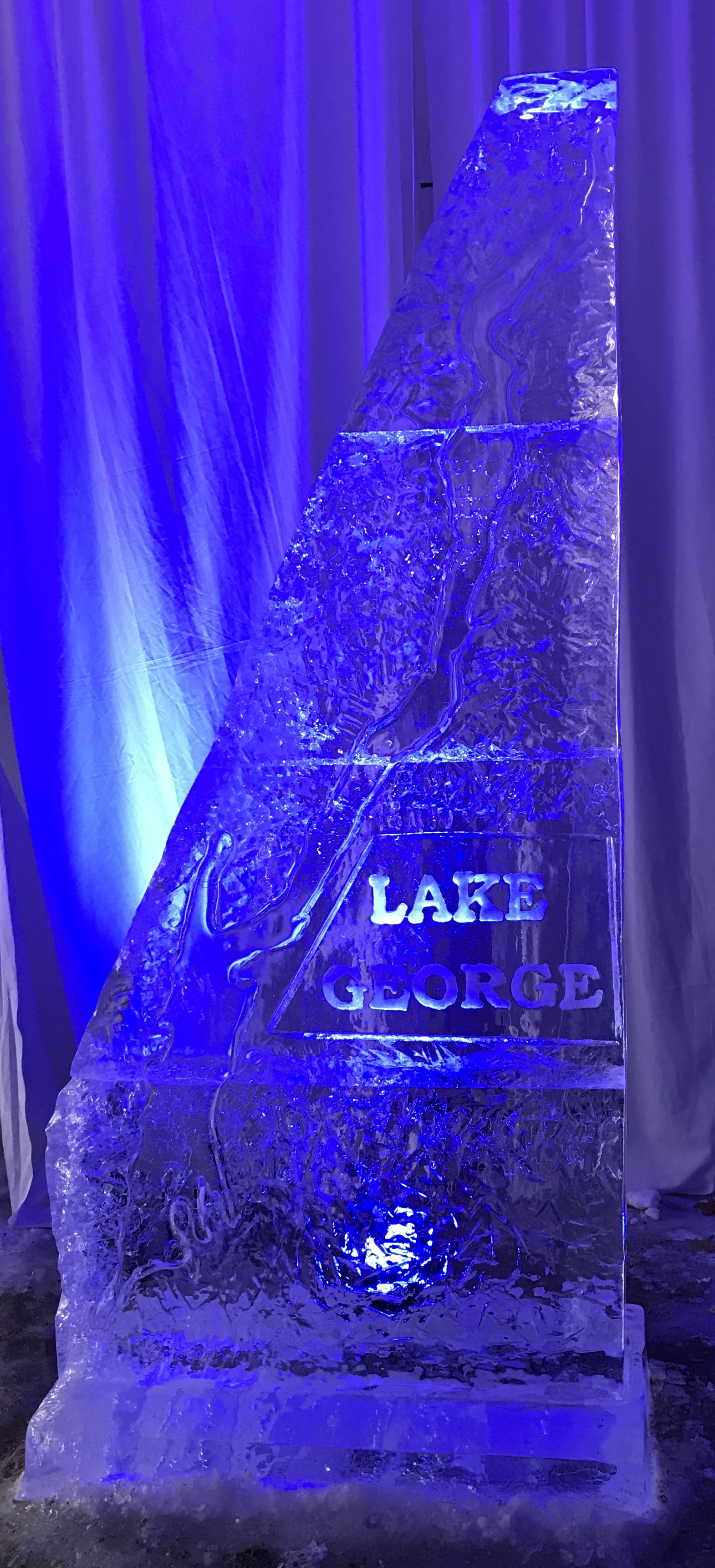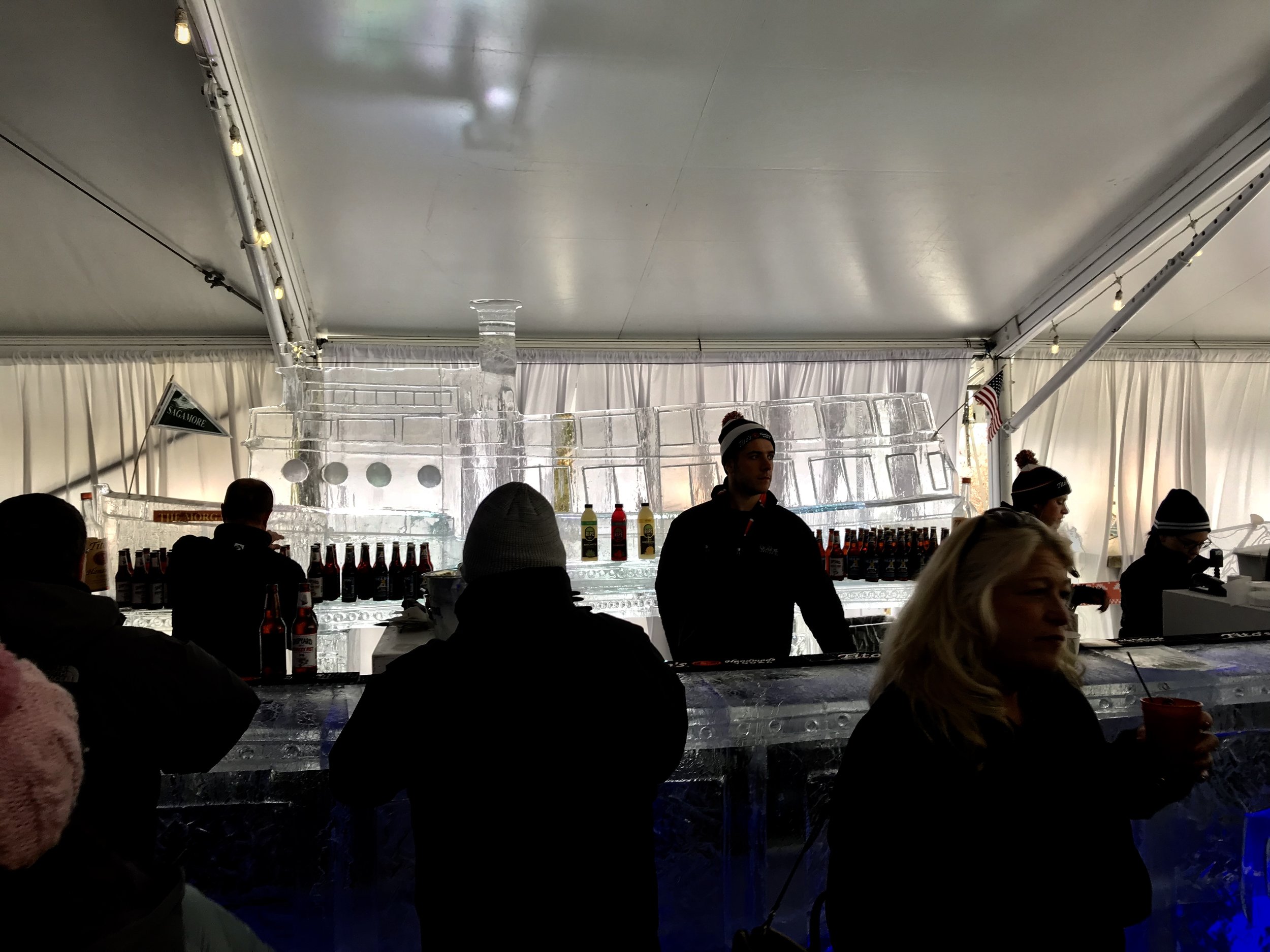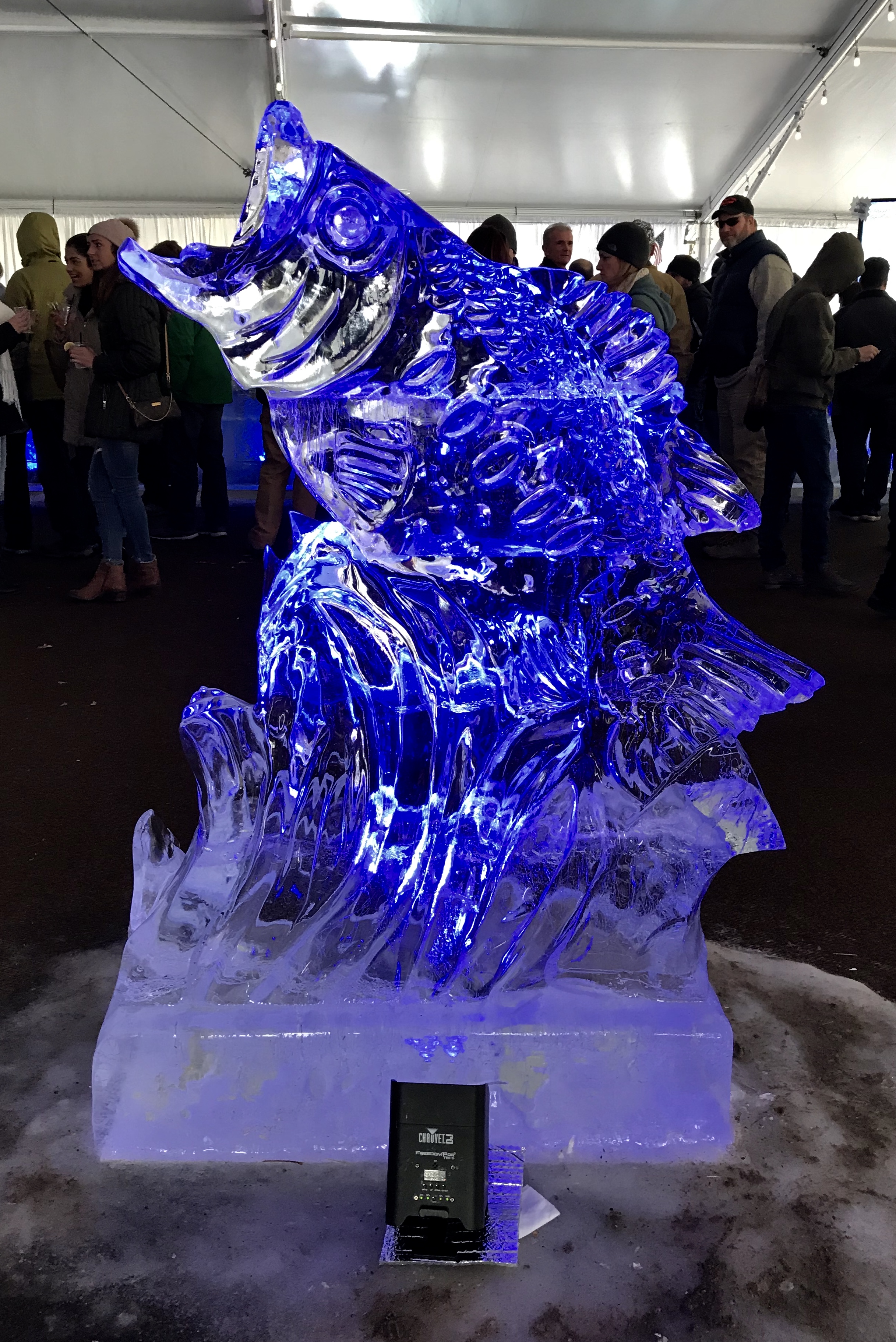 Last year's theme was centered on Lake George itself, with a life-size motorcycle, The Morgan 'floating' behind the bar, larger than life fish, and the infamous outline of the lake itself, among other sculptures, all beautifully carved out of ice.
We tried to hang on the patio near the ice bar and sculptures, but boy was it cold outside. My parents headed for the hot chocolate bar, because my mom said it was too cold for other drinks, and then they found an indoor lounge set up specifically for sipping indoors. I'm not sure if they had that lounge set up last year, but it was a great spot to warm up for a bit before heading back outside. My youngest brother and his friends were at The Sagamore later in the evening and they found soups for sale in that lounge.
We chatted for a bit longer outside, but then my folks headed off for some shopping at the Factory Outlets of Lake George, followed by dinner at Mexican Connection in Saratoga. Myself, my brother Dan, and sister-in-law Kristine stayed a while longer at The Sagamore, so of course we tried some more drinks. I opted for one of the warm cocktails featured at the hot chocolate bar, and it did not disappoint. It was a white hot cocoa with Bailey's, marshmallow topping, whipped cream, and shaved Godiva chocolate. It was perfect for the chill in the air and tasted like a s'more!
Speaking of s'mores, this year a s'mores bar was featured on one of the patios, with a fire pit for roasting the mallows. There were many folks hanging out around the fire pit just to stay warm, but s'mores are ahmahzing so we squeezed our way in to get roasty. And toasty s'mores are perfect for a chilly winter day. Just as we were ready to leave the fire pit a guy started performing live music, and the crowd was singing along. We were frozen so we headed back inside and planned to head to another ice bar.
There were several in the area, including Winterfest at Erlowest at the Inn at Erlowest and Funky Ice Fest at the Adirondack Pub & Brewery, both in Lake George. We chose the latter because it boasted fun games carved of ice, among other sculptures and an ice bar. Though a smaller location than the grandeur of The Sagamore, there was a large parking lot right across from it on a side street, and their patio and parking lot were full of people of all ages having a grand time.
We started out exploring the main ice sculptures on the lower part of their patio, which included games - a chess board, a peg game (like the one found on every table in Cracker Barrel), and what appeared to be air hockey - as well as several instruments including a harp, a bass, an electric guitar, and a grand piano w/ an actual keyboard where the keys would be. I totally rocked out hard core on the electric guitar, which was on a pedestal, at the perfect height to actually 'play' it! Kristine attempted to play the bass as a harp, because playing the harp as a harp would've been too obvious, and when the place is called Funky Ice Fest, it's best to take things to the next level.
The top of the patio housed the ice bar, which featured beer from the Adirondack Brewery, wine from the Adirondack Winery located just up the street in Lake George, and various cocktails including some made with the Adirondack Winery's wines themselves like the delicious one I ordered which tasted like a watermelon Jolly Rancher.
Just past the patio they had a cute little forest trail set up. We were welcomed in by a howling wolf light up green, though it was unclear if he was crying to the blue corn moon or to Mother Nature because of how cold it was. The path was lined on either side with mini pine trees covered in lights. Among the trees were several woodland creatures carved of ice and dyed different colors so they stood out on the snow.
Between the pathway and the patio there was a humongous disco ball suspended from a crane, with plenty of room below for hanging out or dancing the night away. Based on the size it, that might be an indication of just how funky this ice fest gets once the sun goes down. We didn't stick around for long, because it was certainly getting colder and our fingers were beyond icicles from sacrificing them for the sake of some awesome pics and Insta Stories. We quickly finished our drinks to head for home just as it was getting dark.
Overall we had an awesome day at the ice bars we visited. It's a fun time to hang out in places we would normally only venture to in the days of warm weather, and each place had plenty available to keep you warmed. We only made it to two of the ice bars this year - double what we visited last year though, so maybe next year we'll try for three or four. There are several in the Lake George area, plus several in the greater Saratoga region, and there was even one in Latham too. There are two still open this coming weekend, but most are annual so be sure to add them to your calendar for next year! I highly recommend both ice bars we went to, though I would suggest starting at the Glacier Ice Bar & Lounge first, because the views of the lake and of the historic Sagamore itself will be much more appreciated in the daylight, while the Funky Ice Fest can be enjoyed into the night since it is less spread out and many of their ice sculptures are lit up or dyed funky colors.
Have you ever been to either of these ice bars or any others? Let me know in the comments below!